One of our key competences
Direct Push Injection for remedial purposes is one of our key competences. Two decades have taught us how to deal with the challenges our soils give us. Injecting fluids, either biological or chemical, has been used for betterment of soil and groundwater quality for a long period.
If the impact is in an aquifer or otherwise in permeable soils a system of injection wells has often the preference as these can be used multiple times. If the soil has a limited permeability or the lithology is somewhat heterogenic direct push injection can be very helpful. To minimize the cost of operations maximizing the injection flow is paramount. We have mastered ourselves in achieving this in the majority of our projects. We dare you to try it with us and we guarantee you love the efficiency.
Get a free quotation
for your project with
Nocon expertise.
Would you like to know if we're a fit for your project?
Fill out this form and we'll contact you as soon as we can.
Bottom-up approach
Many clients prefer top-down injection for reasons of controlled and directed transport of the fluids and slurries. We do agree with the reasons but do not like the practical difficulties of top-down injection. We often use a special injection tool that allows a bottom-up approach but with top-down precision; stronger, our injection tool shows better results as the interface with the geological formation is a lot better.
The key for the success of this tool is downward locking of the borehole while extracting slowly when pumping the fluids and slurries.
The injection tool
The three images below show our injection tool. The tool is driven down in a closed position with one of our Geoprobe's. At depth pumping is started while retracting the rod string; hence the screen is exposed and has a 60 cm interface with the geological formation. The 30 cm tip is attached to the screen and locks the borehole downwards.
The standard Geoprobe injection tool has limited contact with the formation via the 4 injection ports where we use 248 injections ports. Even with Peroxychem's EHCÒ ISCR this approach can result in high flow, low-pressure applications. And the bottom-up application allows pulling the rods while pumping, hence better distribution.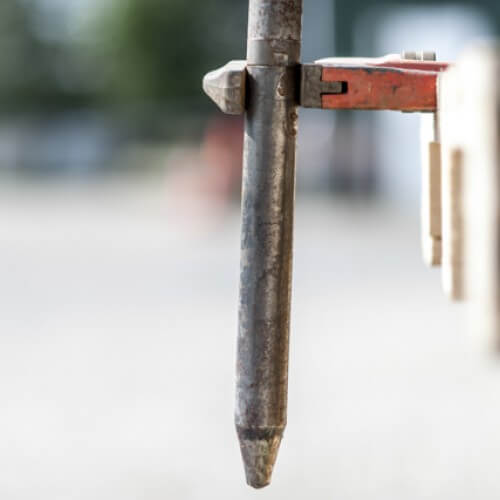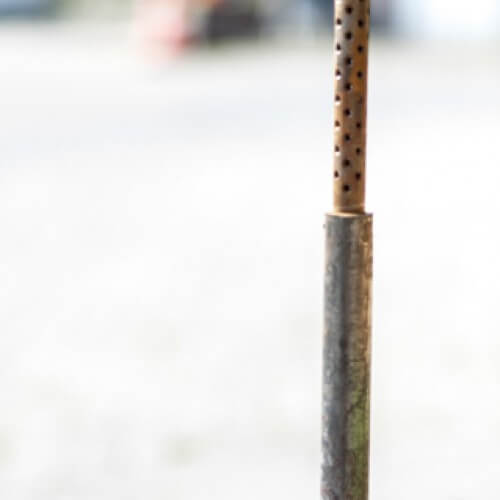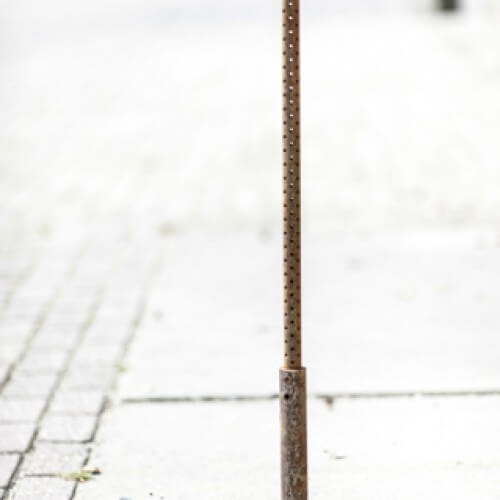 Top Down injection
In the early days we have used the top down method with an in-house developed drill head. The video shows an application of a Lactate injection project in Brussels.
Would you like to know more about
Direct Push Injection?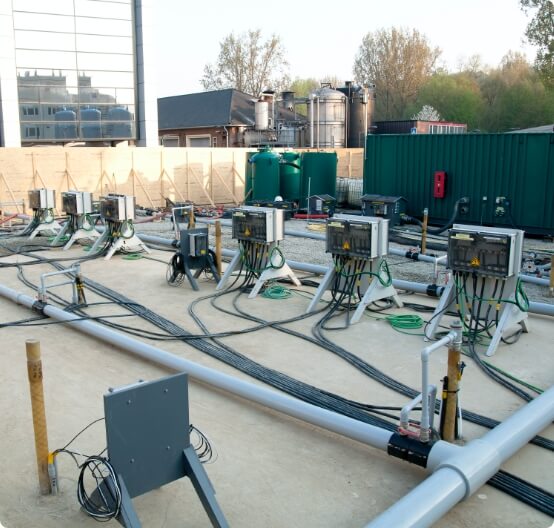 Effectively cleaning soil with
Thermal Soil
Remediation (ERH)
Cleaning up sources zones with chlorinated solvents sunk to 15 meters deep in moraine clay formations to comply to what the regulators ask you or you need a rapid clean-up for real estate developments, that is when ERH excels.
That is when you should contact us because we started it in Europe 20 years ago and are still very flexible and fast.
Fast & reliable ground samples with
With our small rotosonic rig (only 4,5 ton) it is possible to perform discrete soil sampling at a rate that is phenomenal. We are using our Aqualock™ system to sample at 100 degrees Celsius for our ERH projects, but also to survey sites in Sweden or Denmark in moraine clays. Tilted wells under a pipe bridge? No problem!